Ummah Charity International is now Al-Wahab Foundation
Your Zakat can save lives this Ramadan
When you donate your Zakat, the difference you can make is staggering. Across the world in Pakistan, Syria, Turkiye and Uganda, your Zakat this Ramadan can provide nourishing food, clean water and support to help people survive. Donate your Zakat today and keep hopes alive.
Your act of faith can help those in need
Giving Zakat is one of the five pillars of Islam and a redistribution of wealth to those who are less fortunate. This Ramadan, donating your Zakat with Al-Wahab Foundation can fulfil your obligation, bring reward and benefit those who are struggling. Your donation can provide food, water, education and much more in the battle against the effects of earthquakes, flooding, poverty and inequality. Donate your Zakat online today.
Those who need your Zakat
As the third pillar of Islam, Zakat is a way to cleanse and purify your wealth, remember Allah (swt) and draw closer to Him in worship and obedience.  It is an obligatory act for those who can afford it.
'Yet you shall duly establish the Prayer. And you shall give the Zakât-Charity, and therewith lend God a most goodly loan. For whatever good you advance for your souls, you shall find its reward with God in the Hereafter; yet it shall be far better and much greater in reward.' (Holy Qur'an 73:20).
There are several categories of people who are eligible to receive Zakat: the poor who are in financial distress, the needy who are in financial need, the administrators of Zakat or Zakat Collectors appointed by the State, those who have recently converted to Islam and need help, Zakat given to end slavery, those in debt, Zakat given in the name of God, and travellers, including refugees.
Across the world, the number of people suffering hunger, without clean water, displaced from their homes and without access to healthcare or education, continues to rise. The recent earthquakes of Turkiye and Syria, recovery from extreme flooding in Pakistan, poor agriculture and rising food prices in Uganda, have increased the number of people in need of immediate humanitarian aid.
Give your Zakat today as part of your worship during the holy month of Ramadan.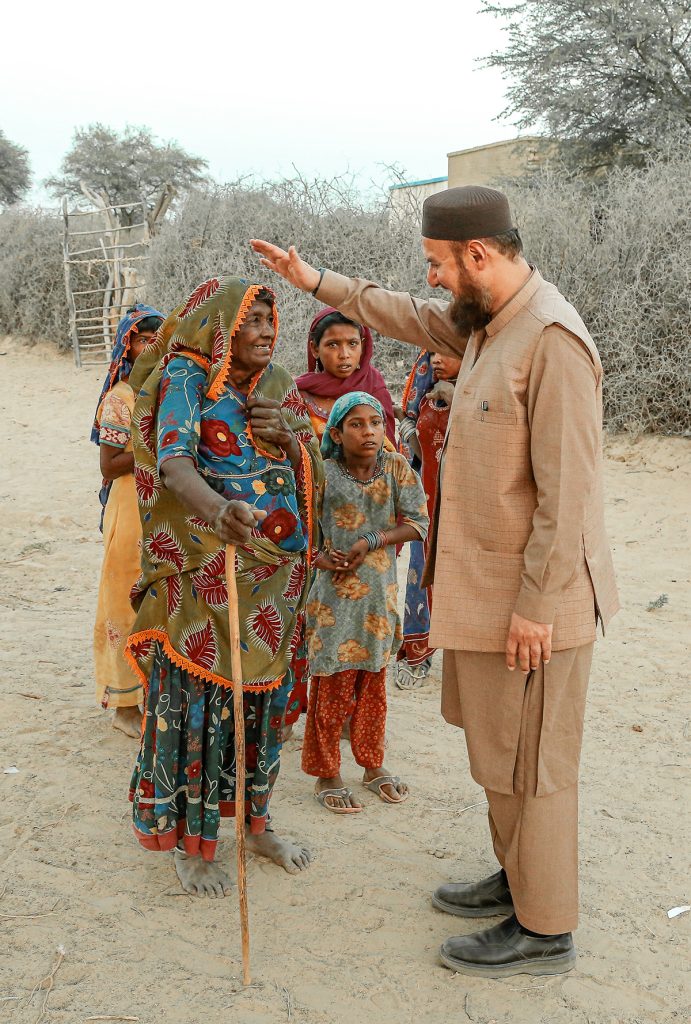 Calculate and Pay your Zakat to fulfil your obligation.
When you fulfil your worship and give Zakat this Ramadan, we can reach those in greatest of need, providing lifesaving and life-changing aid. Our teams are on the ground in the most impoverished areas, using our local knowledge to reach those who are most vulnerable.
We understand how important and powerful your Zakat is. That's why our 100% Zakat Donation Policy and trusted aid chain means your Zakat can pay for:
Clean drinking water to improve health and sanitation
Monthly food packs to feed a whole family
Iftar meals to replenish and nourish people at the end of their fast
Free healthcare such as eye surgery to restore sight
Access to education with a Maktab for disadvantaged children by keeping them off the streets
Women's empowerment projects that help widows learn skills and earn stable income.
"When you pay the Zakat you have fulfilled what is required of you." (Al-Tirmidhi)
Use our simple calculator below to work out how much Zakat you need to pay.
The current nisab for Zakat is the equivalent value of 87.48 grams of gold; 612.36 grams of silver. Every sane, adult Muslim who meets this threshold should pay 2.5% of their wealth in Zakat.
Gold Nisaab*
£4494.72
(87.48g )
Silver Nisaab*
£361.29
(612.36g)
NISAB VALUE
How much is Nisab for Zakat 2023
Silver – the value of 612.36g of silver
Gold – the value of 87.48g of gold
*Nisaab values are updated regularly