Turkey Syria
Earthquake Appeal
Ummah Charity International is now Al-Wahab Foundation
Provide Sustenance: Donate to Turkey Syria Earthquake Appeal
In early February 2023, Turkiye was hit by a devastating series of major earthquakes near the border with Syria. Tragically, over 51,000 people lost their lives, crushed beneath collapsed buildings in what became the worst natural disaster in decades. As we continue to assist the affected communities, your donation can make a significant impact. 
With your support, we can provide essential food packs and cooked meals to those who have lost everything and are in desperate need. Join us in our efforts to meet the ongoing needs of the survivors and help save lives. Your generosity can bring hope and sustenance to those facing immense challenges. Donate to Turkey earthquake survivors now and make a difference!
Rebuilding Lives in Turkey After Devastation
Six months have passed since the world witnessed one of the most devastating natural disasters to strike the regions of Southeast Türkiye and Northwest Syria; there is still a lot required to do to bring the sufferers back to life. 
Al-Wahab Foundation has been tirelessly working to rebuild lives and provide essential support. With our ongoing efforts, we are focused on offering vital aid in the form of food packs and cooked meals to those who have lost everything. Through the provision of nourishment, we aim to bring sustenance and comfort to the affected communities, offering hope and resilience as they navigate through these challenging times. 
Together, we stand committed to serving and rebuilding lives, ensuring that no one faces this difficult journey alone. Your support makes a significant difference in our mission to bring relief and assistance to those in need. Donate to Turkey earthquake relief efforts and help rebuild lives.
Recover and Rebuild Together: Your Support Matters!
While the earthquakes may have only taken seconds to wreak havoc and devastation, the journey of recovery will span years. For the survivors caught in the aftermath, homes have been destroyed, and basic necessities like water, gas, and electricity remain damaged. The disruption of food distribution chains has left a vast region, spanning more than 500km, in dire need. To ease down the suffering, Al-Wahab Foundation is on the ground to provide sustenance and nourishment to the traumatized survivors.
Through our food packs and cooked food project, we strive to bring hope to those who have lost everything. Your donation can save impoverished children and their families from continuing hunger, giving them the time needed to heal and grieve as they begin the journey of rebuilding their lives.
As you donate to Turkey earthquake through your pay zakat online or Sadaqah donation, we can provide one-month food packs for families and offer hot-cooked meals to the surviving locals in Turkey. Your donations for Turkey earthquake survivors can help us in this ongoing journey of healing and renewal.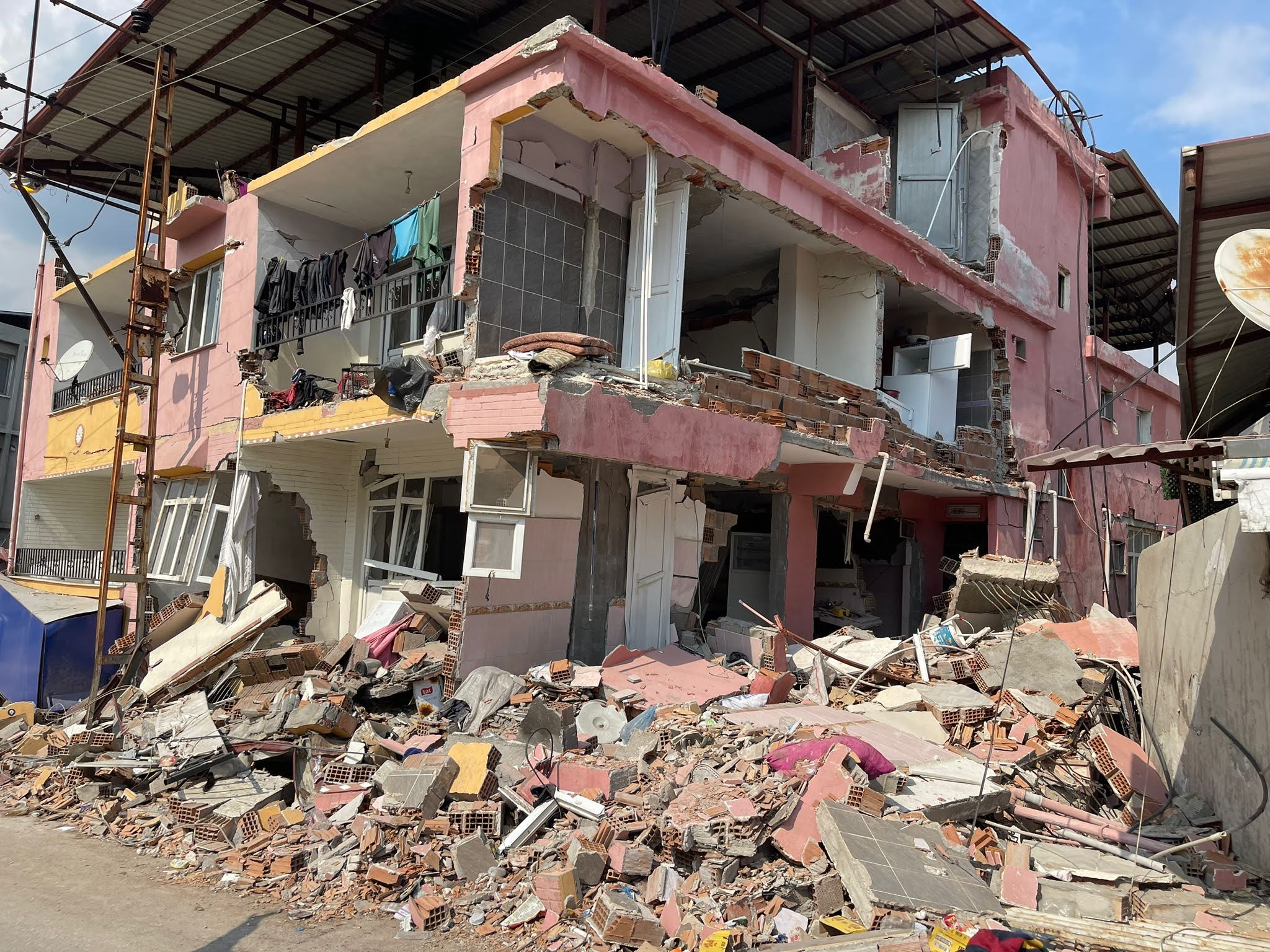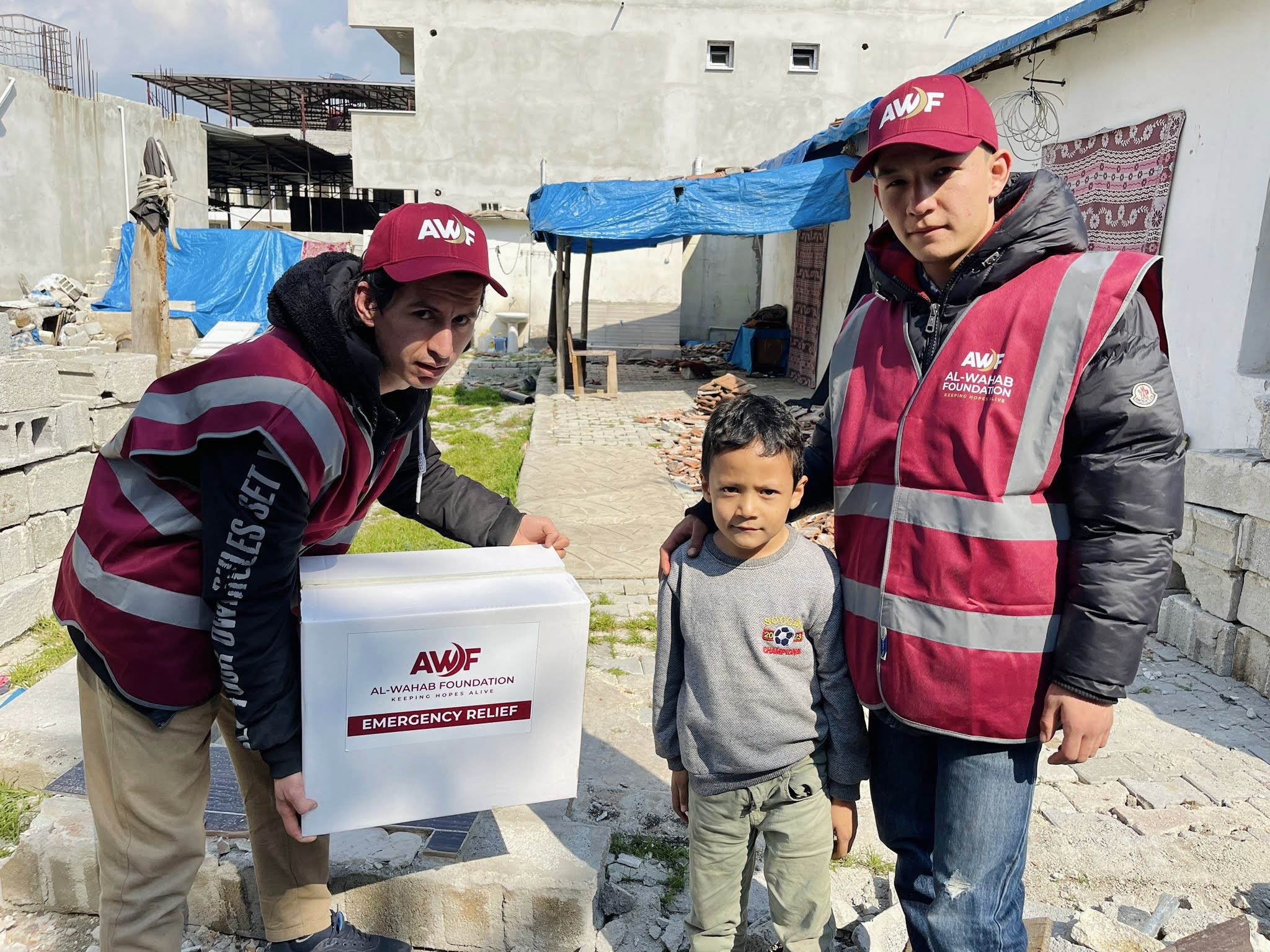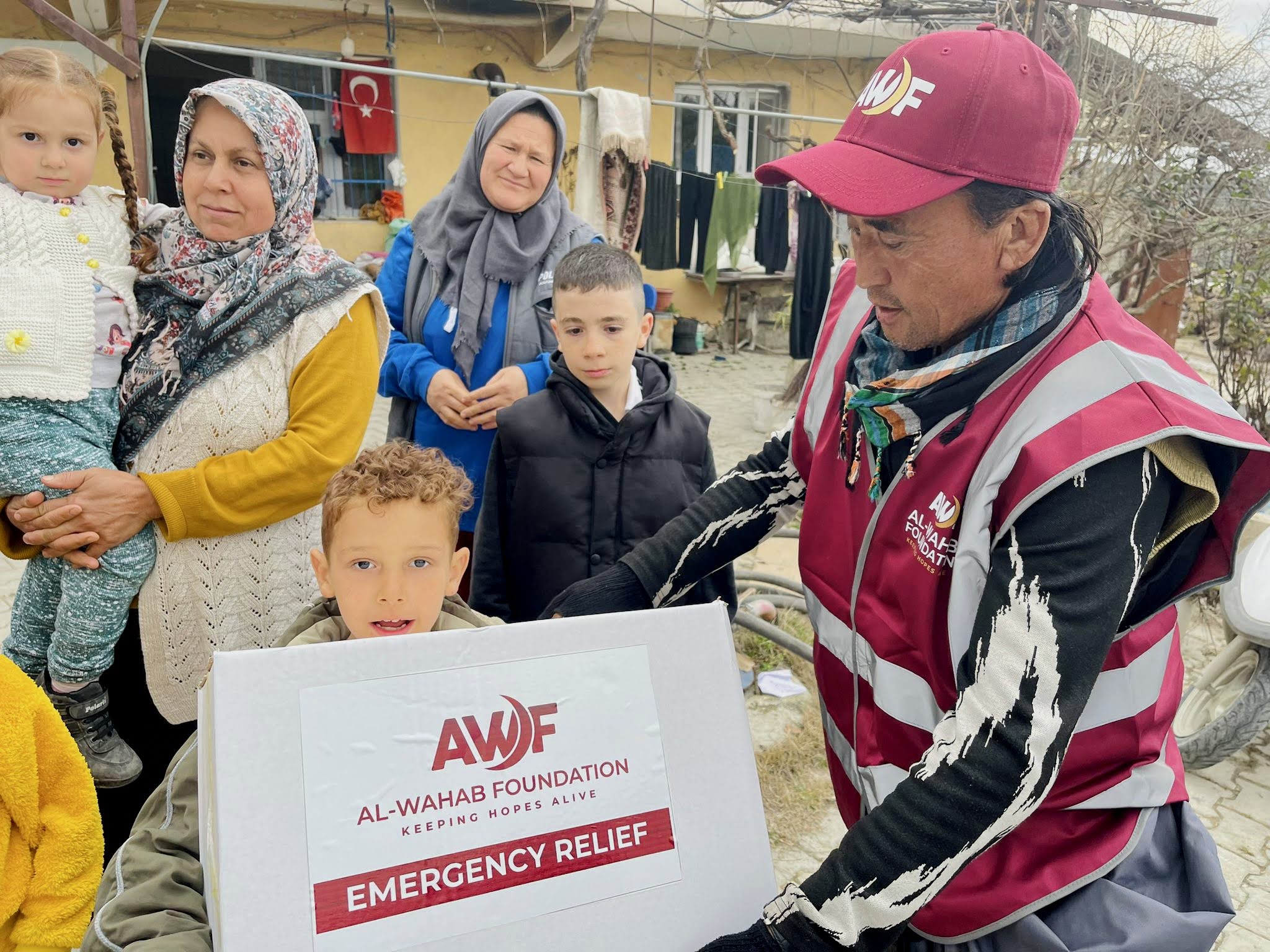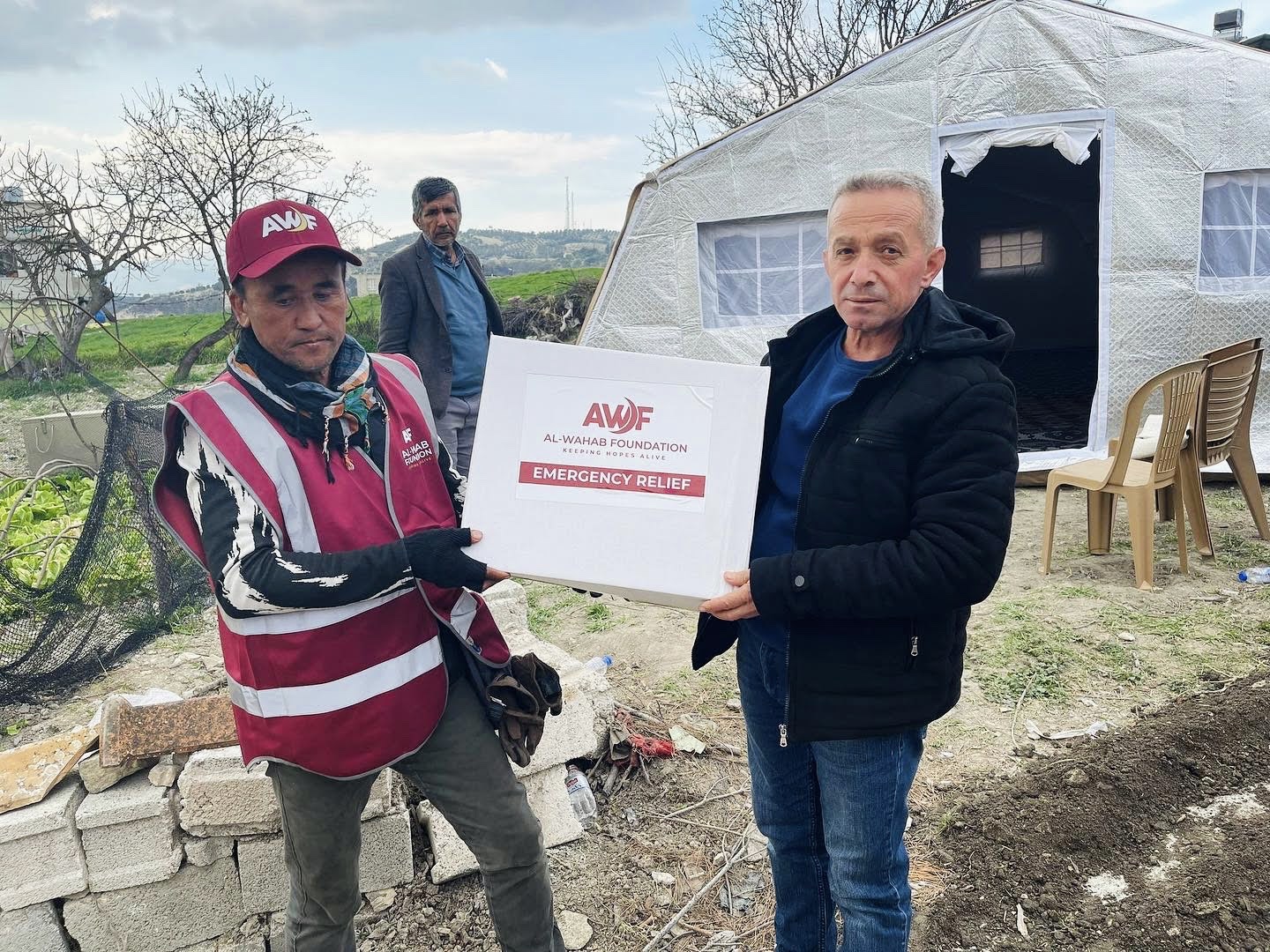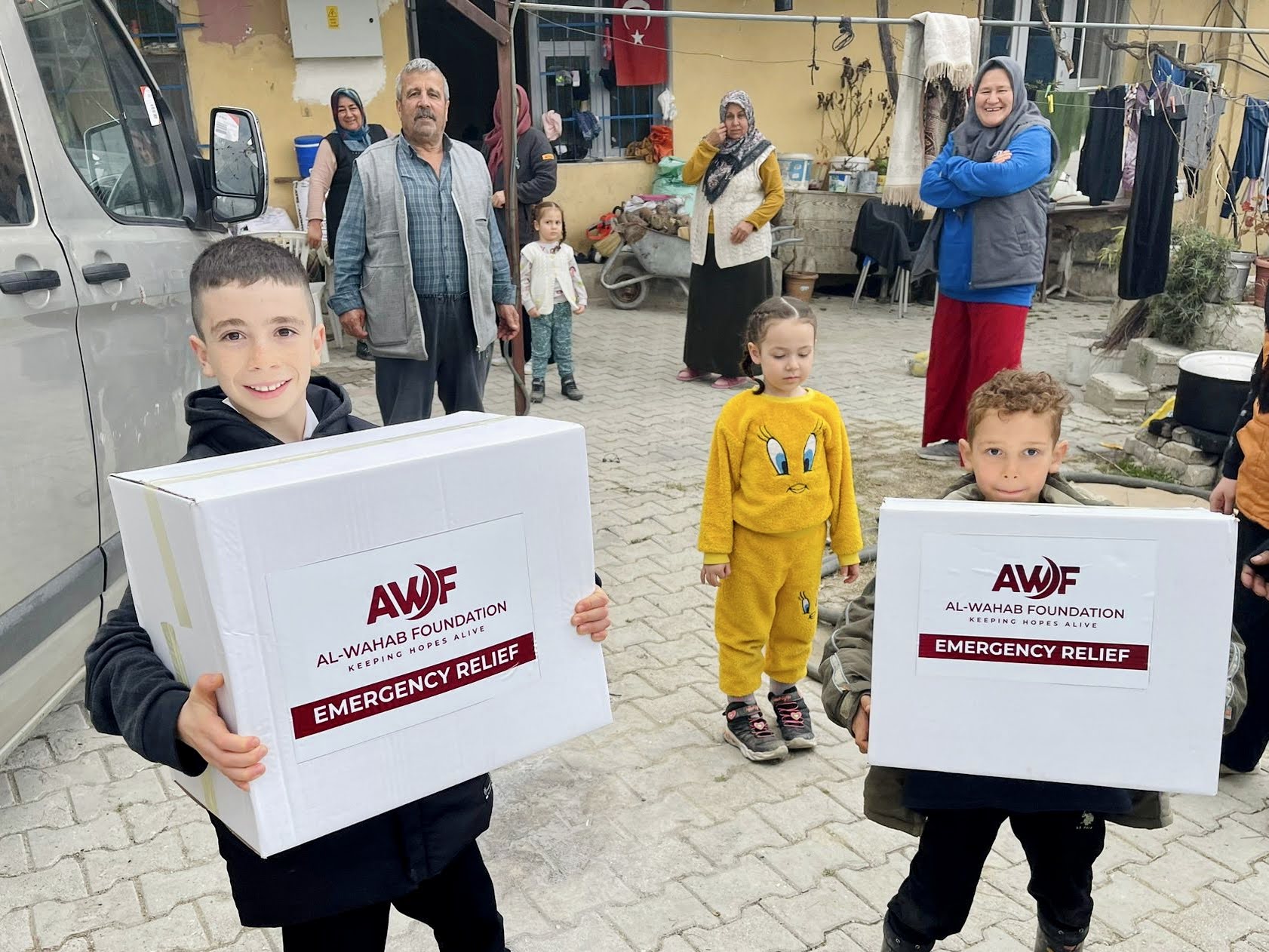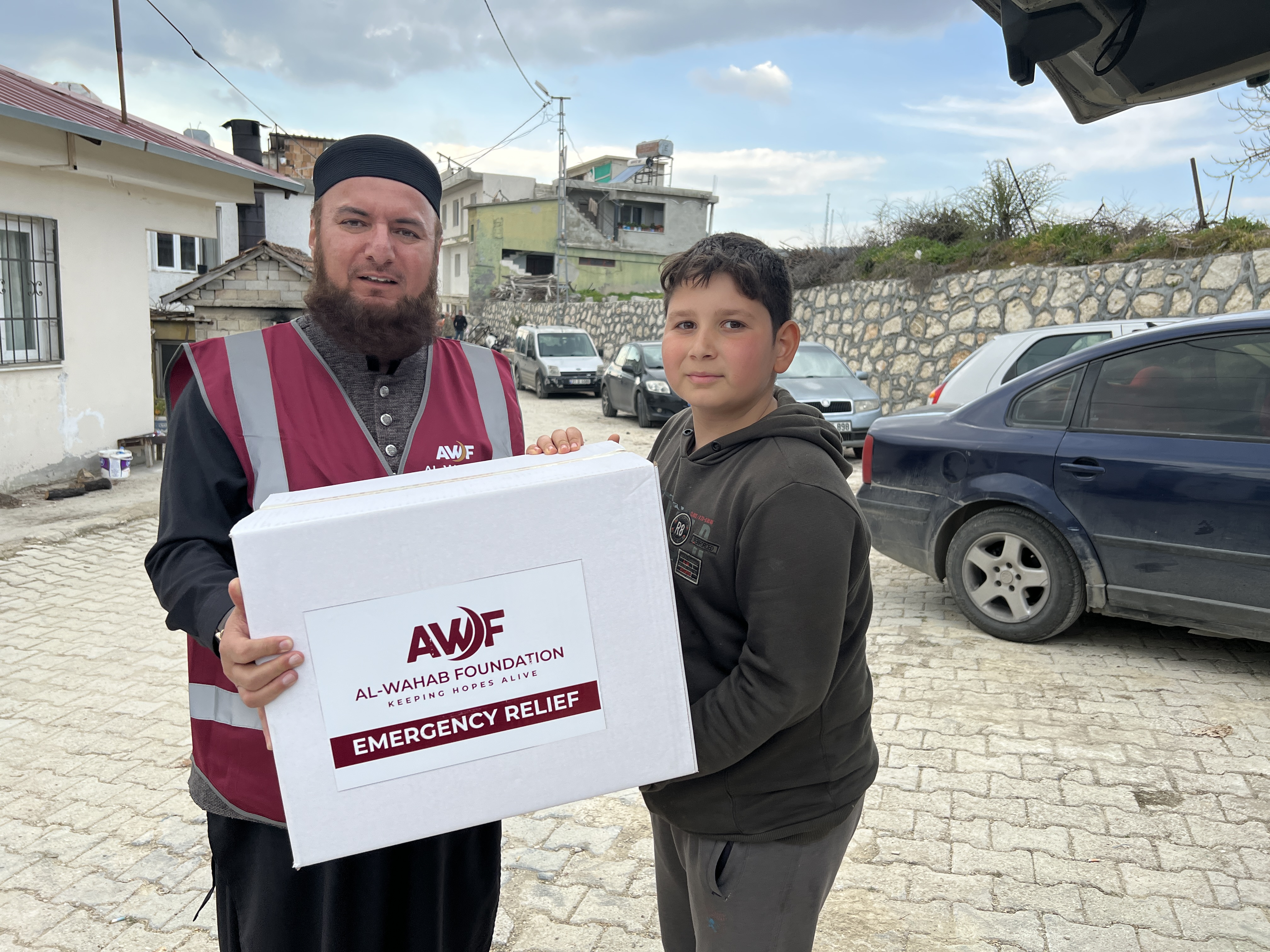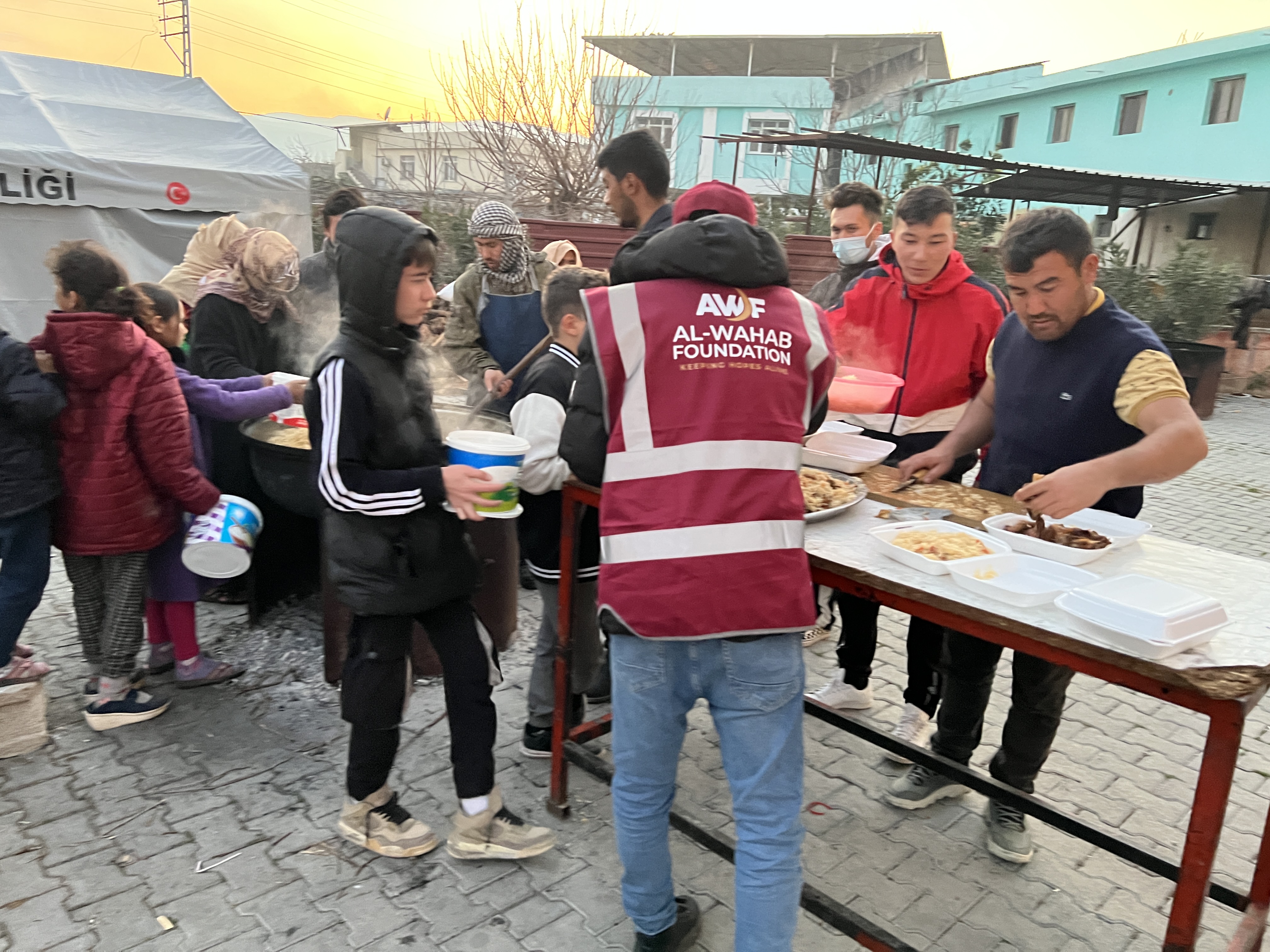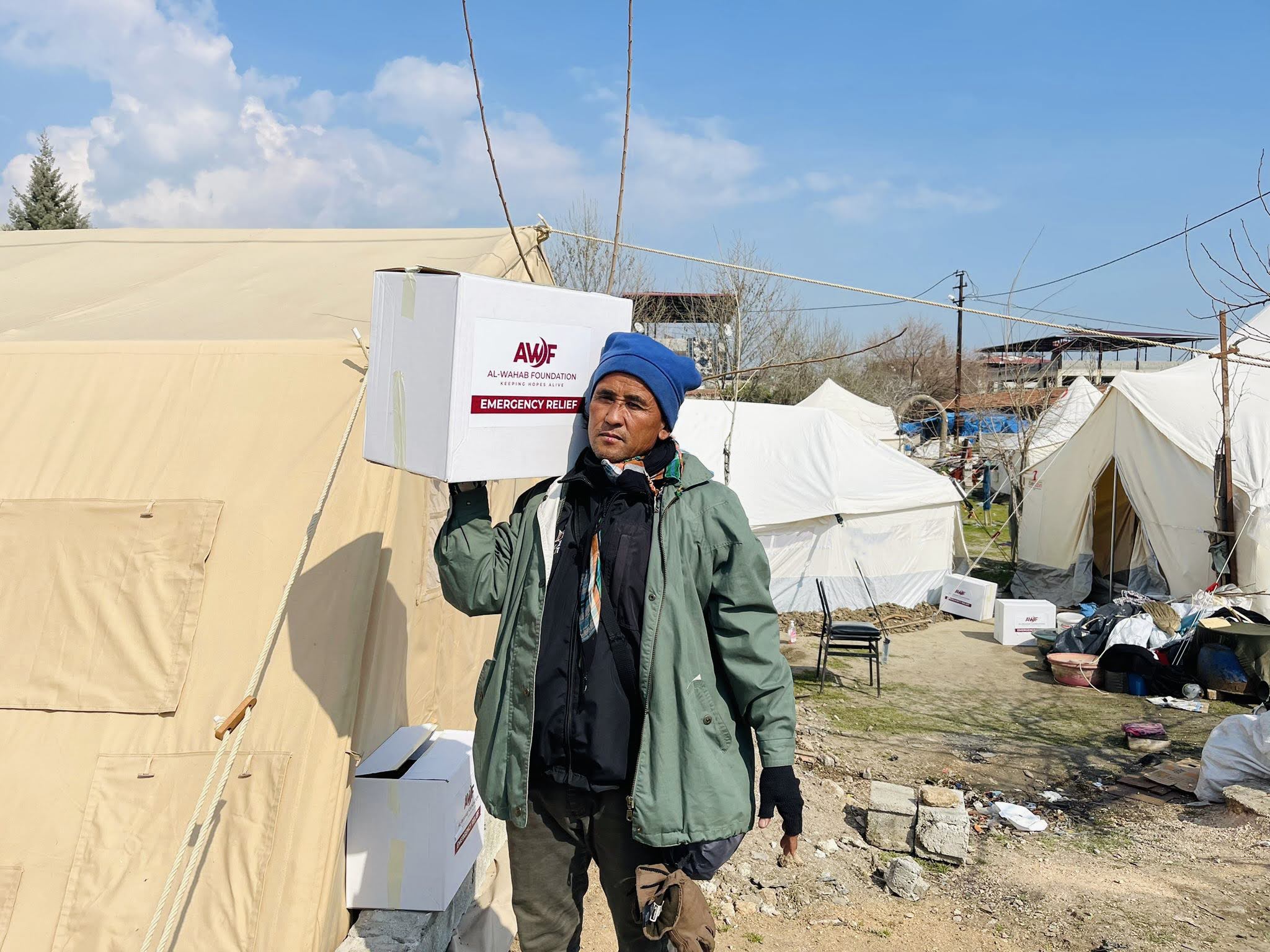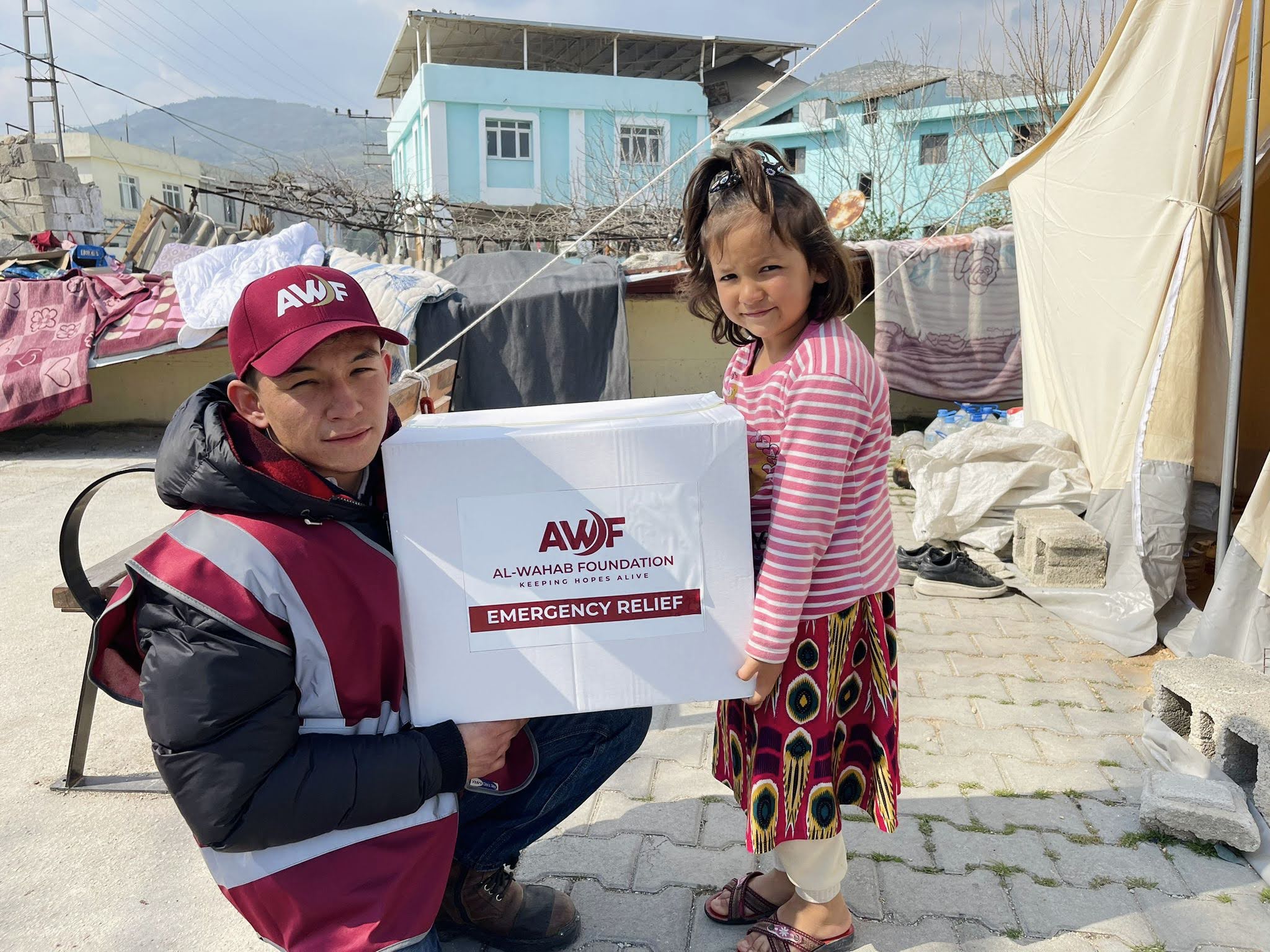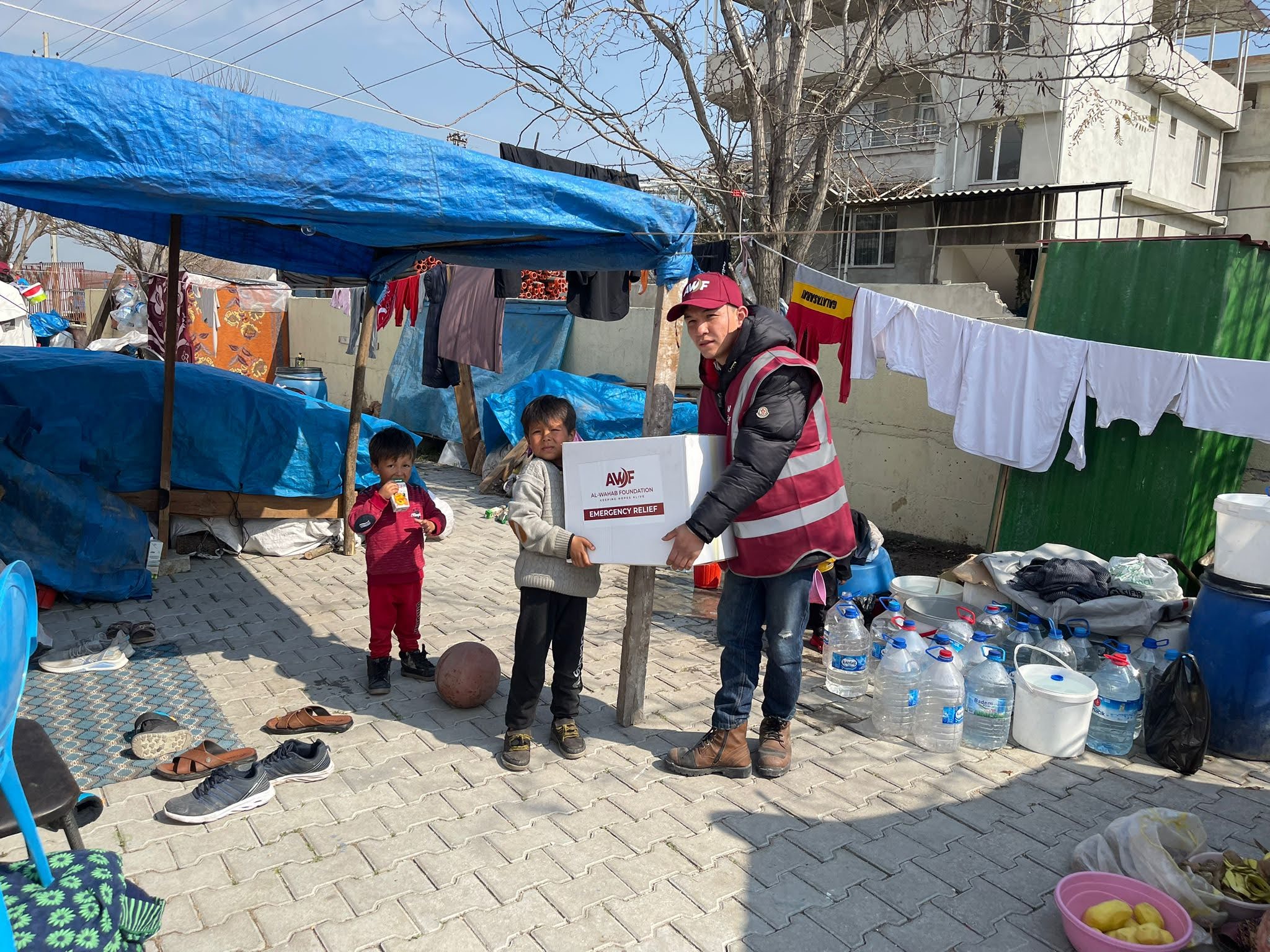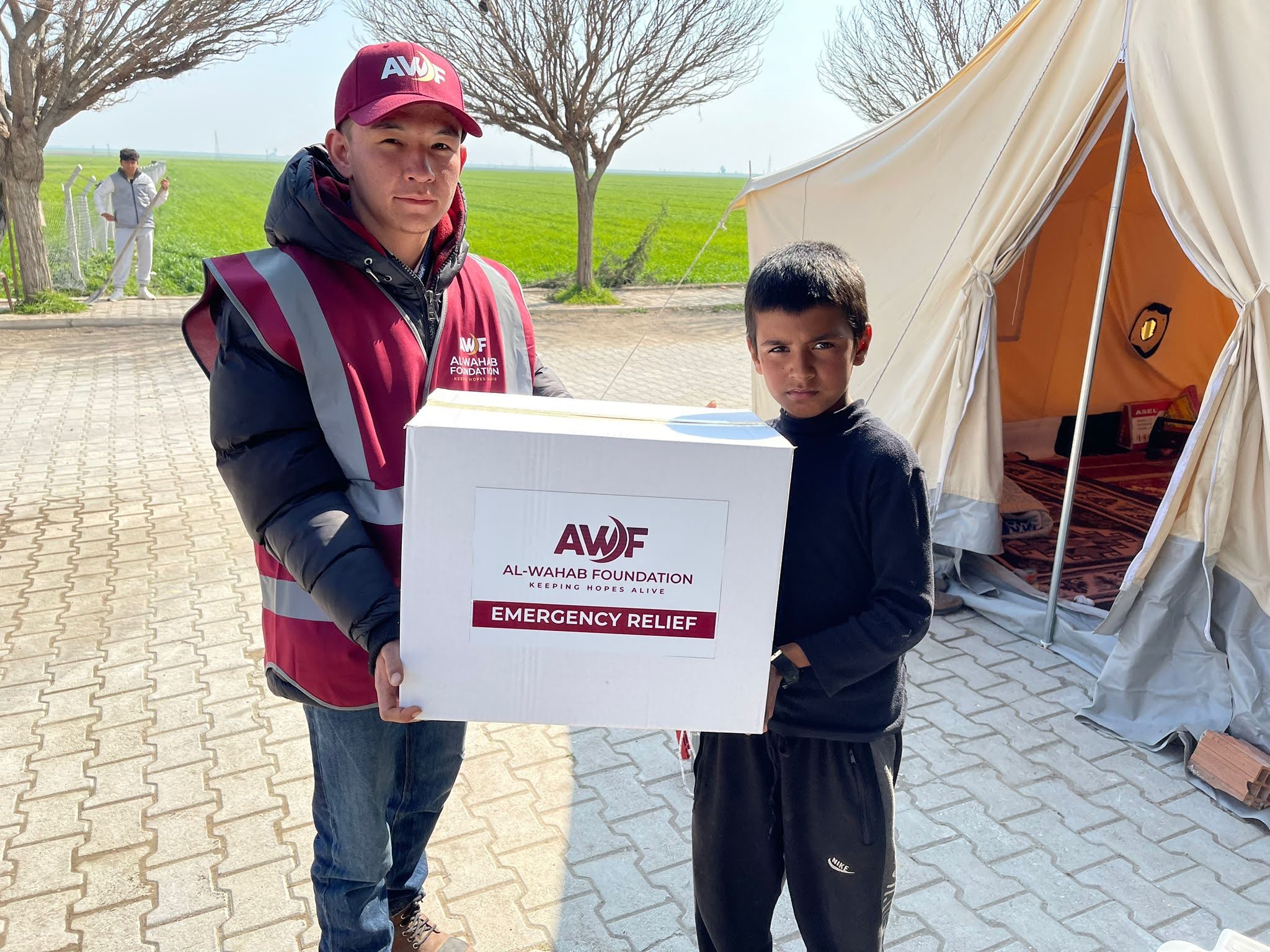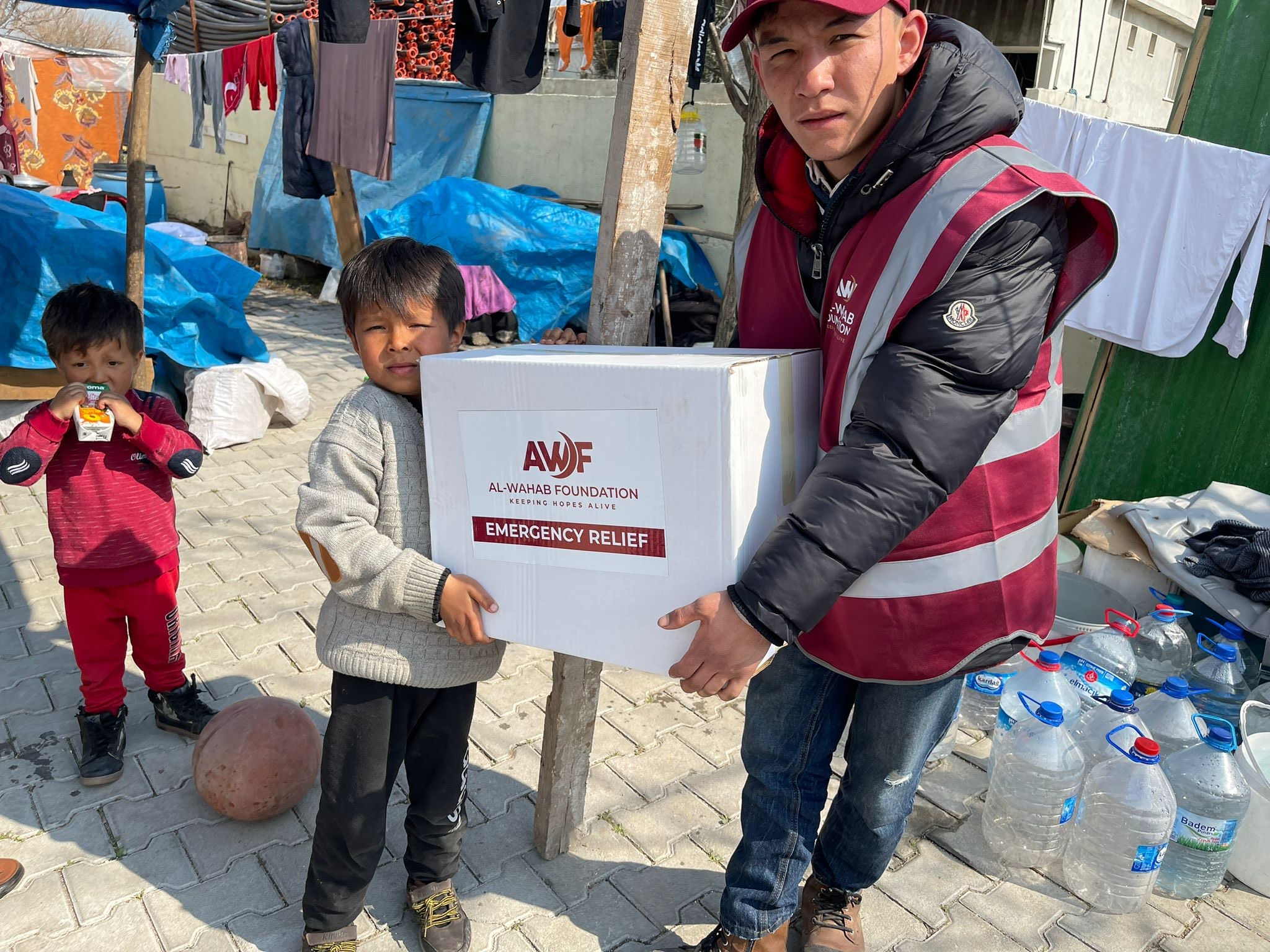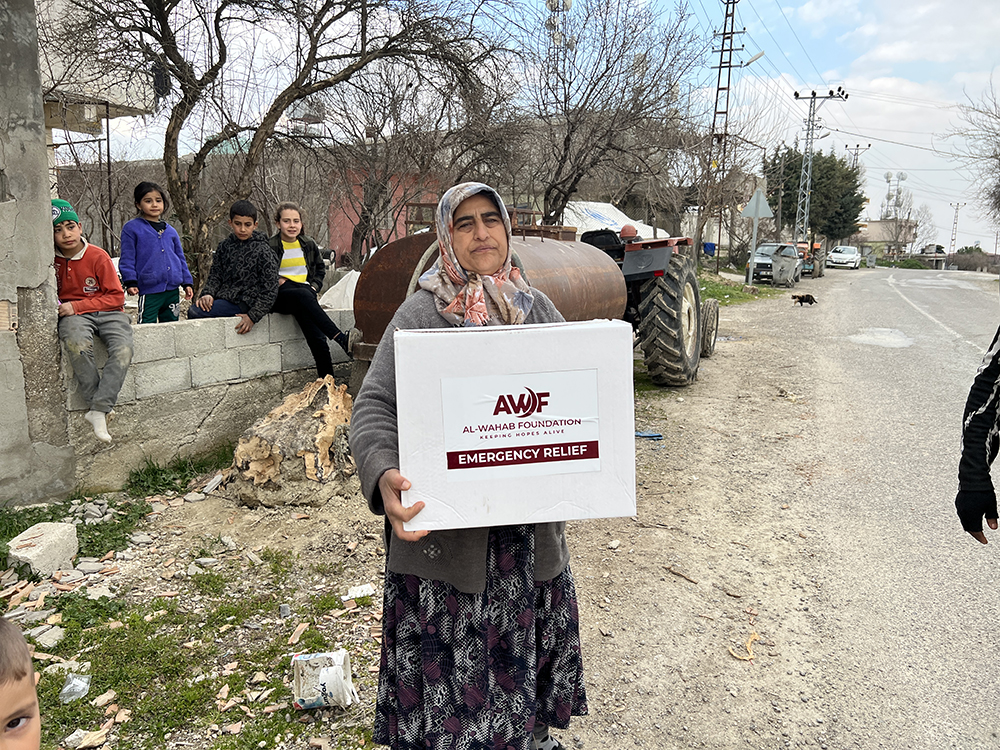 Mufti Abdul Wahab's Visits to Turkey
Team AWF has been actively engaged in Turkey following the devastating earthquakes. With a strong commitment, we have been providing essential aid and support to the earthquake survivors. Through our food packs and cooked food project, we continue to nourish and sustain those who need it the most. 
Our chairman Mufti Abdul Wahab himself visited the affected areas twice and supervised the distribution of cooked meals and essential food items to the families living in desperate conditions. With generous contributions from supporters, we succeeded in providing 166 food packs, 200 Ramadan food packs, and 200 Iftar packs in Turkey. 
As we move forward, our aim is to offer them much-needed relief during this challenging time. Donate to Turkey earthquake survivors and help us make a widespread difference!
What AWF has Achieved So Far in Turkey?
The commitment of our team and the generous support from our esteemed donors have brought hope and relief to the survivors of Turkey's earthquake. Under the guidance of our chairman, Mufti Abdul Wahab, we were able to distribute 1,766 Food Packs, 1,200 Hot Cooked Meals, and £1,250 cash vouchers, providing crucial assistance to those in dire need. None of this would have been possible without your valuable contribution.
To continue our efforts in rebuilding the lives of the people in Turkey, we strive to do even better, ensuring they can lead comfortable and secure lives ahead. Your continued support is vital in our journey of bringing positive change and renewal to the lives affected by this tragic event. Together, we can make a lasting impact and pave the way for a brighter future for the survivors.
Ways to Contribute
Online Donation: You can easily donate to Turkey earthquake relief through our secure online donation portal. Your contribution, no matter how small, can make a big difference.
Our Donation Hotline: Apart from our online portal, you can donate to Turkey earthquake relief activities by calling us on our donation hotline at 020 8903 8944.
In times of calamity, the spirit of compassion and solidarity shines the brightest. Your support, in the form of donations for cooked food and food packs, can help bring hope and relief to those affected by the Turkey earthquake. Join hands with Al-Wahab Foundation in supporting this critical mission and making a positive impact on the lives of the affected communities.