Ummah Charity International is now Al-Wahab Foundation
Al-Wahab Foundation's Uganda Appeal
Poverty in Africa has been a longstanding challenge, casting a shadow over the aspirations and dreams of millions. Within this complex landscape, Uganda stands as a nation grappling with its own set of socio-economic obstacles, where poverty's harsh grip affects vast segments of the population. 
However, amidst these adversities, rays of hope break through the clouds, originating from the dedicated humanitarian aid by Al-Wahab Foundation. AWF has embarked on a remarkable journey to alleviate poverty's burden and uplift communities. Donate food and water for Uganda and help us make an everlasting impact.
Supporting Communities: Donate Food and Water for Uganda
In Uganda, over 40% of people struggle to live on less than £1 a day, and nearly half of the population is below the age of 15. The devastating effects of malnutrition on growing bodies lead parents to sacrifice their own meals, giving what little they have to their children. You can make a significant impact by donating to our Uganda appeal today. 
Your contribution can provide food packs to families, offer hot meals to school children, or even establish water wells to protect and nourish families living in challenging conditions. Together, we can make a positive difference in the lives of those facing hardship. Donate now and be a source of hope for those in need.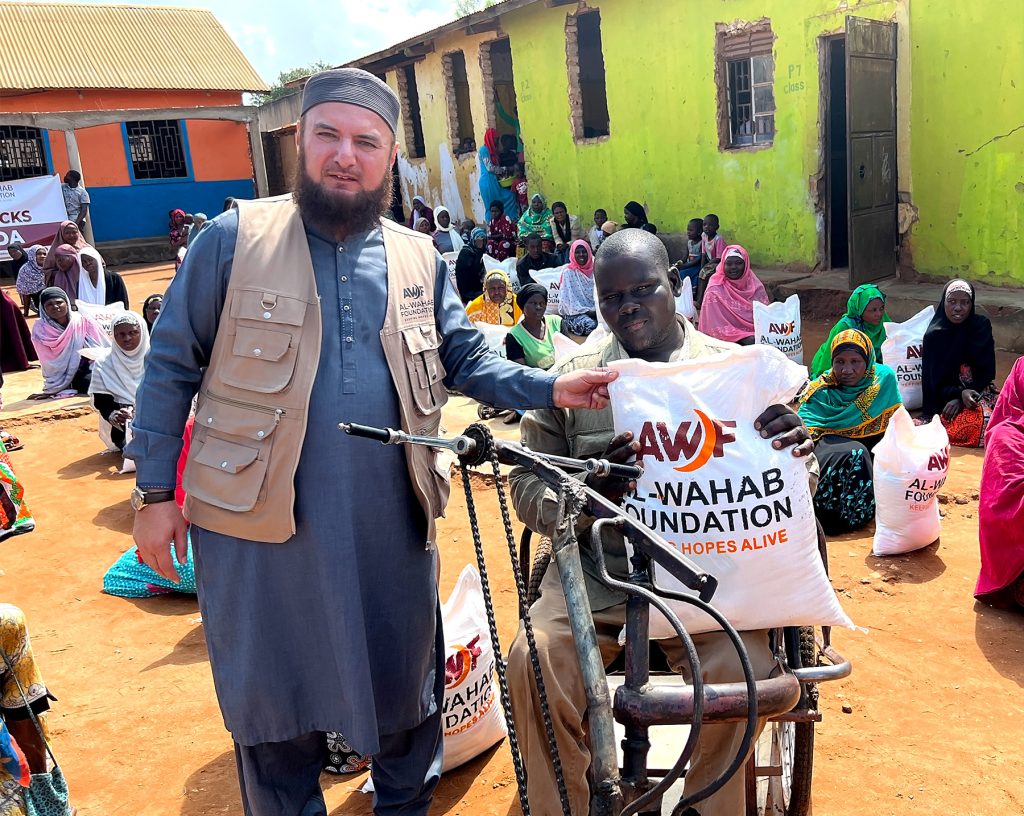 Sponsor a Child in Uganda: Empowering Their Future
Education is a powerful tool for breaking the cycle of poverty. With our Uganda appeal, you can Support Underprivileged Children in Uganda, empowering them with access to education, healthcare, and hope for a brighter future. By becoming a sponsor, you play a pivotal role in transforming a child's life and their family's prospects.
Building a Well in Uganda: Ensuring Safe Water Access
Clean and safe drinking water is essential for human survival. In many remote areas of Uganda, access to clean water is scarce, leading to waterborne diseases and hardships for the community. With your support through our Uganda appeal, we can build water wells in deprived regions, providing a sustainable solution to water scarcity and improving health and sanitation. 
Building a Masjid in Uganda: Developing Faith in Communities
In our commitment to developing strong communities, our Uganda appeal includes the construction to build a masjid in the areas where locals cannot have easy access to a secure place of worship. These mosques will serve as a center for worship, educational activities, and social gatherings, bringing the community together in unity.
What AWF Has Achieved So Far?
This year Mufti Abdul Wahab and his team travelled to Uganda and collaborated with House of Charity Uganda. They specifically went down to one of the most impoverished regions, Namabasa. The following initiatives were brought to action during this visit under Uganda appeal by Al-Wahab Foundation:
Cooked Food – Through our Uganda Appeal, AWF and House of Charity Uganda were able to successfully cook and distribute 350 meals in Namabasa, and 850 meals in Raising Hope Infant School. Over 750 People and little children were able to get a decent meal. They returned to their homes with full stomachs and smiles on their faces. This was possible because of your donations of food for Uganda.
Food Packs – A total of 710 Monthly food packages were prepared and distributed by the House of Charity Uganda together with the Al-Wahab Foundation team through our Uganda Appeal. These packages proficiently catered for more than 2,000 people and the quantity of food products has the ability to sustain for an entire month. The food packs included essentials such as rice, flour, sugar, tea, salt, oil, and toiletries. Again, this was all able to happen because of your generous donations.
Water – The water project was one of the more extensive tasks yet the most beneficial under our Uganda Appeal. In many remote areas of Uganda, access to clean water is scarce, leading to waterborne diseases and hardships for the community. Our team was able to dig water wells in remote villages at the site located in Namabasa Sirji Mbale District. As a result, safe drinking water was provided to the deprived and needy community. An average of 700 people will benefit from this water well on a daily basis.
Building a Masjid – We have initiated the construction of the masjid in Butaleja, Uganda. This 80 square feet mosque is sure to accommodate 300 adults (men, women, and children) and will serve as a hub for worship, educational activities, and social gatherings. Nothing would have been possible without your mosque donation.
Sustaining Families with Care in Africa
Your donation can make a significant difference in the lives of impoverished children and their families by providing food packs to combat ongoing hunger. In areas plagued by deep-rooted poverty and unreliable crops, the scarcity of food supply and reliable income worsens the situation.
Clean drinking water is also a critical concern in remote regions, where shortages and inadequate sanitation systems lead to the spread of diseases like Cholera and Ebola.
Pay zakat online or Sadaqah donation can go a long way. It can cover one month's supply of essential food items for a family in need or offer hot cooked meals to school children, often their only meal for the day. With your generous support, we can also build water wells in Uganda to ensure clean and safe water access, contributing to better health and sanitation for these communities. Support and contribute towards our Uganda appeal to make a difference!
Feed Families in Uganda with Al-Wahab Foundation
"The best of you are those who feed others." (Ahmad)
Since 2014, AWF has been tirelessly working to aid people living in poverty worldwide. Thanks to your generous donations, we have provided food packs to over 140,000 people facing desperate circumstances. As global hunger continues to rise, our commitment remains strong in reaching new individuals in regions where poverty threatens lives and suppresses futures.
Mufti Abdul Wahab personally visited Africa to assist impoverished communities by providing food packs, cooked meals, and clean drinking water under his direct supervision. He envisions this project as an ongoing effort to safeguard as many people as possible from famine and contagious diseases in Uganda.
Our network is continually expanding, and with your continued support, we can reach even more individuals in need. Our local expertise enables us to be on the ground, reaching those who require.