Ummah Charity International is now Al-Wahab Foundation
Give Iftar to the Fasting this Ramadan
With hunger rising across the globe, for many people this Ramadan will be particularly challenging. From earthquakes, to flooding to long-term poverty, you can provide the meal at the end of the day to those who are fasting and give relief, sustenance and hope. Your gift of iftar can earn you immense reward and ease their hunger. Donate your Zakat, Sadaqah or Fidya to feed the fasting during this blessed month.
FEED THE FASTING AND GAIN HIS FORGIVENESS
Whoever feeds a fasting person will have his sins forgiven and will be saved from the hell-fire.' (Ibn Khuzaymah)
Giving food to ease hunger and provide sustenance to others brings immense reward. During this holy month, you can relieve the hardship of people who do not have a regular meal each day. Donate now and you can give shelter and hot food to feed the hungry.
*Zakat is not applicable to Fidya, Fitrana, Kaffarah, and Iftar Packs.
Give the joy of sustenance.
Your generosity can give people across the globe the food and energy they need to complete their fast and find the energy for another day.  Food poverty across Pakistan has risen a staggering 45% since the floods of 2022, leaving millions in vulnerable position and without a meal each day. In Uganda, those living in rural areas struggle to access food each day. In Turkiye and Syria, devastating earthquakes have destroyed food supply.
"The parable of the believers in their affection, mercy, and compassion for each other is that of a body. When any limb aches, the whole body reacts with sleeplessness and fever." (Muslim)
This Ramadan, you can increase your blessings and help give relief from hunger to fellow Muslims in need.  The mercy of your Zakat or Sadaqah during Ramadan can provide a healthy meal to vulnerable people, including widows and orphans. Your donation will provide them with a warm tent space and a hot, filling meal to break their fast.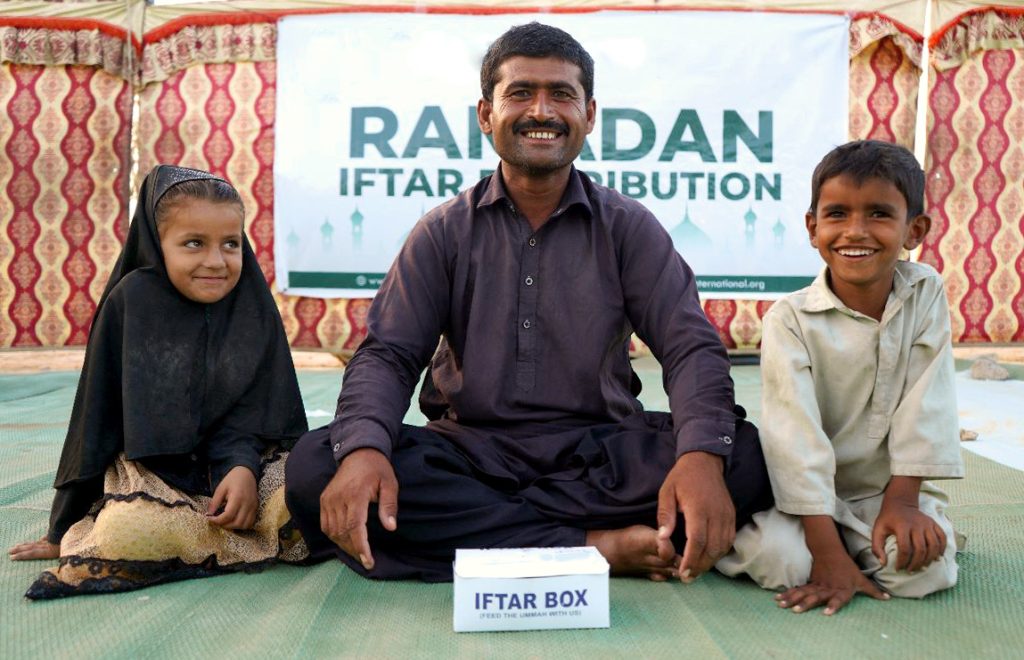 Provide Iftar with Al-Wahab Foundation
"The fasting person has two occasions for joy, one when he breaks his fast because of his breaking it and the other when he meets his Lord because of the reward for his fast." (Bukhari)
At the end of a day of fasting, we all long for rest and an iftar meal to relieve our hunger. For those who have lost everything, this hope is never realised and the hunger goes on.
Since 2019 we have been providing meals during Ramadan to communities in Pakistan, where poverty is widespread. Our teams are also working to distribute food across Uganda, where malnutrition rates are rising fast.  In Turkiye and Syria, we are on the ground delivering food supplies to the survivors of one of history's worst earthquakes. Despite the scarcity of food, despite their trauma, these people continue to fast for His sake.
Give joy this Ramadan. Donate your Zakat or Sadaqah today and feed people by providing filling, nutritious food to sustain them and their worship. With your support, we can keep hopes alive.