One of the most abysmal issues in Pakistan currently is the rate of unemployment with an approximate figure of 5.8%, making Pakistan have one of the highest unemployment rates in the world. Unemployment is usually caused by Pakistan's rapid population growth, slow economic growth, and lack of industrial diversification. 
Unemployment will remain a lingering and complex problem in Pakistan until no change is made. As a result, Pakistan's labour class suffers from poverty and income inequality, leaving many families including single mothers struggling to provide for themselves and their children. Considering the intensity of these challenges, Al-Wahab Foundation has always stepped forward to provide livelihood opportunities offering sustainable and lasting solutions to families facing hardships. Here is an overview of AWF's Rozgar and Women Empowerment Projects.
Help Make a Change Through Al-Wahab Foundation's Rozgar Project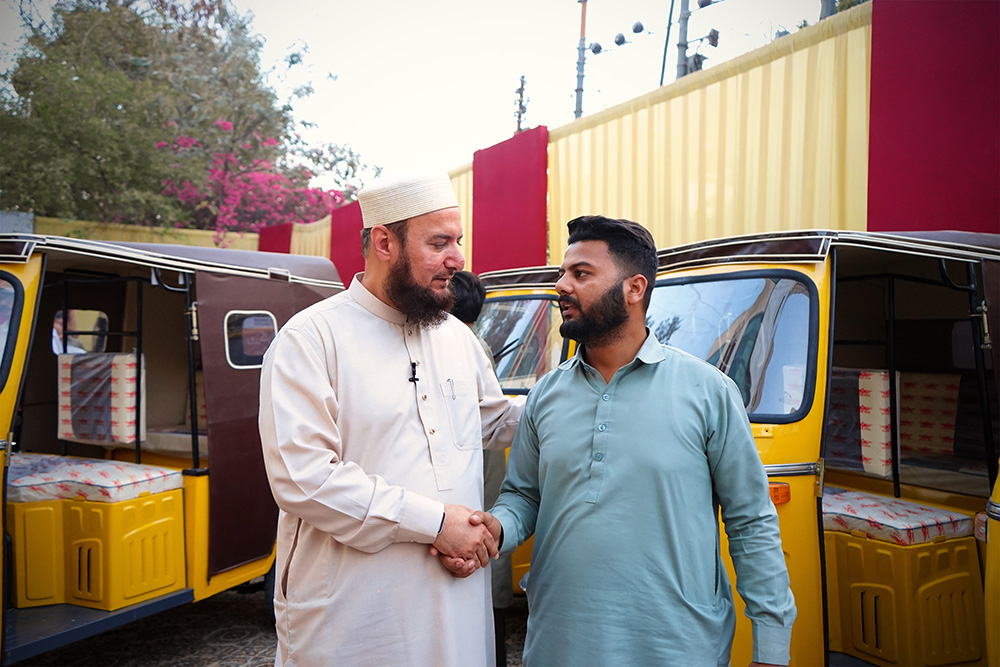 Unemployment and poverty often form a vicious cycle that traps individuals and communities in dire circumstances. Alleviating poverty and providing job opportunities are crucial for creating a sustainable and prosperous society. AWF's Rozgar Project recognizes this urgent need and seeks to break this cycle by providing assets that can generate income for the beneficiaries.
Under the vision of Chairman Mufti Abdul Wahab, who has always believed in transforming lives through respectable livelihood, Al-Wahab Foundation focuses on providing rickshaws and delivery motorbikes to deserving individuals. These vehicles offer a means of transportation and livelihood, empowering recipients to become self-reliant and financially stable. Many beneficiaries have started earning a good income through rickshaw driving as well as with delivery work through motorbikes who were previously struggling to make ends meet.
Providing job opportunities with motorbikes
Motorbikes have proven to be an excellent means of empowering people with employment opportunities. The Rozgar Project identifies individuals who are eager to work and possess the necessary skills but lack access to transportation to kick-start their careers. Through generous donations and community support, the project provides motorbikes to these individuals, enabling them to venture into delivery services for local businesses.
Uplifting Women through Sewing Machines
Women, especially in conservative societies, often face limited opportunities to earn a livelihood outside their homes. Al-Wahab Foundation recognizes the immense potential that lies within these women and has taken an important step towards their empowerment. We know that women in Pakistan have always played a pivotal role in the fabric of Pakistani society. Through AWF's Women Empowerment Project, we provide deprived women with sewing machines so that they can contribute to their family income. Moreover, our project is the best assistance for widows who face difficulty in managing their families without any breadwinner.
The provision of sewing machines allows women to develop sewing and tailoring skills, enabling them to create clothing and other products that can be sold in local markets or online. Empowering women not only boosts their confidence but also provides them with a steady income stream. As women gain financial independence, their status within their families and communities improves, leading to a positive transformation in societal norms.
Mufti Abdul Wahab in Pakistan: Rozgar & Women Empowerment Project Distribution Event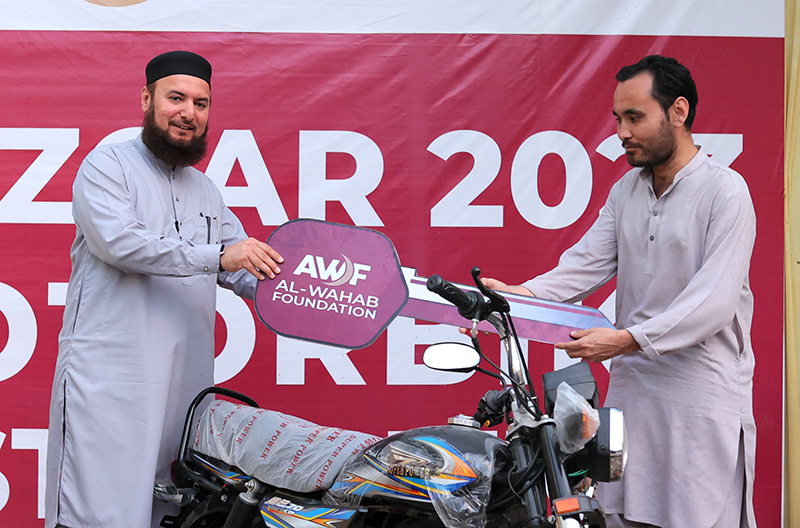 Chairman Al-Wahab Foundation, Mufti Abdul Wahab recently visited Pakistan to lead a significant distribution event for the Rozgar & Women Empowerment Projects. AWF's efforts were focused on providing rickshaws and delivery motorbikes to those in need, offering them a dignified income source through the Rozgar Project. Additionally, we extended support to deprived women by distributing sewing machines, allowing them to earn a livelihood and manage crucial expenses for their families. During this visit, Mufti Abdul Wahab provided 24 rickshaws, 50 motorbikes, and 225 sewing machines. The chairman's visit underscored AWF's dedication to transforming lives and fostering sustainable empowerment within the communities it serves.
Creating an Everlasting Impact
The impact of the Rozgar Project and Women Empowerment Project goes beyond the immediate beneficiaries. As the individuals supported by AWF improve their economic situations, they become role models and sources of inspiration for others in their communities. By providing rickshaws, delivery motorbikes, and sewing machines, AWF is transforming lives and breaking the chains of poverty. Through its commitment to ongoing support towards transforming lives, AWF ensures the long-term success of these initiatives.
How you can Contribute to AWF's Rozgar & Women Empowerment Initiatives?
At Al-Wahab Foundation, we firmly believe that empowering economically disadvantaged families leads to brighter futures that uplift entire communities. With your generous contributions, we provide essential tools and opportunities that create sustainable livelihoods for people residing in underprivileged regions. By offering a fair and steady income, we aim to empower individuals and support entire households, fostering safer, healthier environments and protecting them from exploitation.
Our impactful Rozgar Project centers on equipping vulnerable families with employment-related resources, such as rickshaws and delivery motorbikes, enabling them to work independently and generate a halal income. We draw inspiration from the words of the Messenger of Allah (swt) who emphasized the value of self-sufficiency and dignity in earning a livelihood.
Your compassionate donation of Zakat or Sadaqah holds the power to transform lives through our innovative, long-term solutions to combat poverty. When you choose to donate with AWF, rest assured that your contribution will create a positive impact in the lives of those facing desperate circumstances. To donate, visit our website www.alwahabfoundation.org or call us at 020 8903 8944.