On the night of September 8th, a devastating earthquake struck Morocco, causing a tragic loss of life. The disaster unfolded shortly after 11 PM local time, resulting in a death toll that has now exceeded 2,000 people, with over 2,000 more individuals suffering injuries. This earthquake, measuring 6.8 on the Richter scale, originated in the High Atlas Mountains, approximately 72 kilometers southwest of Morocco.
This powerful natural disaster had far-reaching consequences, leading to the destruction of numerous buildings and essential infrastructure. As a distressing aftermath of this earthquake, thousands of people have found themselves without shelter, facing homelessness. In response to this dire situation, it is crucial to extend a helping hand to the victims of the Morocco earthquake. By contributing to the Morocco Earthquake Relief, together we can make a meaningful impact by providing emergency aid to those affected by this devastating disaster.
Mufti Abdul Wahab's Visit to Earthquake Affected Areas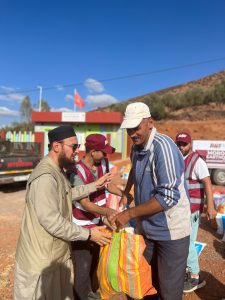 Chairman Al-Wahab Foundation, Mufti Abdul Wahab visited the earthquake-affected areas of Morocco along with his team to provide relief to victims. It was an overall challenging phase yet our team managed to be there to help those in need.
During the visit, Mufti Abdul Wahab observed that the aid hasn't been reaching distant villages where people have gone homeless and are living through miserable conditions without any assistance. Team Al-Wahab Foundation made arrangements to travel to those villages to help the Morocco earthquake victims through our Morocco Earthquake Relief initiative.
The destructed infrastructure and displaced families living in camps presented a whole gloomy picture which was something so heart-breaking to see for Mufti Abdul Wahab and his team.
While using all the resources to support the earthquake victims, team AWF made arrangements for the distribution of food packs and medical aid. The food packs contained all basic necessities including cereal, flour, oil, sugar, tea, and other essential items to serve the needs of a family of six.
"The situation is so miserable and there are so many families still waiting for aid in the earthquake-affected areas. I am thankful to those who supported and request everyone to contribute as much as possible towards Morocco Earthquake Appeal so that AWF can provide them with emergency assistance." ― Chairman AWF Mufti Abdul Wahab
What You Can Do for Morocco Earthquake Relief?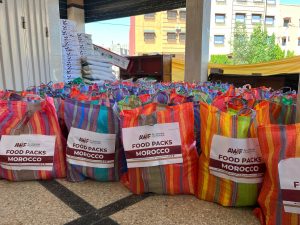 Wondering about how you can help the list of earthquake victims? Al-Wahab Foundation has always ensured to be on the front in every emergency situation specifically when it comes to natural calamities.
To make a difference, you can contribute to AWF's Morocco Earthquake Appeal by donating towards food packs, cooked food, medical aid, and clean drinking water. Your donation of as minimum as £50 can help us reach out to many more families bearing the aftermath of the Morocco earthquake. Explore ways to know how to help Libya flood survivors in this informative article.
How to Contribute to Morocco Earthquake Appeal?
Online Giving: Making a donation to the Morocco Earthquake Appeal is quick and secure through our online donation platform. Every contribution, regardless of its size, holds the potential to create a meaningful impact.
Donation Hotline: In addition to our online platform, you have the option to support Morocco Earthquake Emergency Relief efforts by reaching out to us via our donation hotline at 020 8903 8944.
Your generous contributions can have an extensive effect by enabling us to provide Emergency Kits that encompass essential items such as food, clean water, medical assistance, and basic necessities. Stand together with Al-Wahab Foundation and give the hope to the people of Morocco to live again!