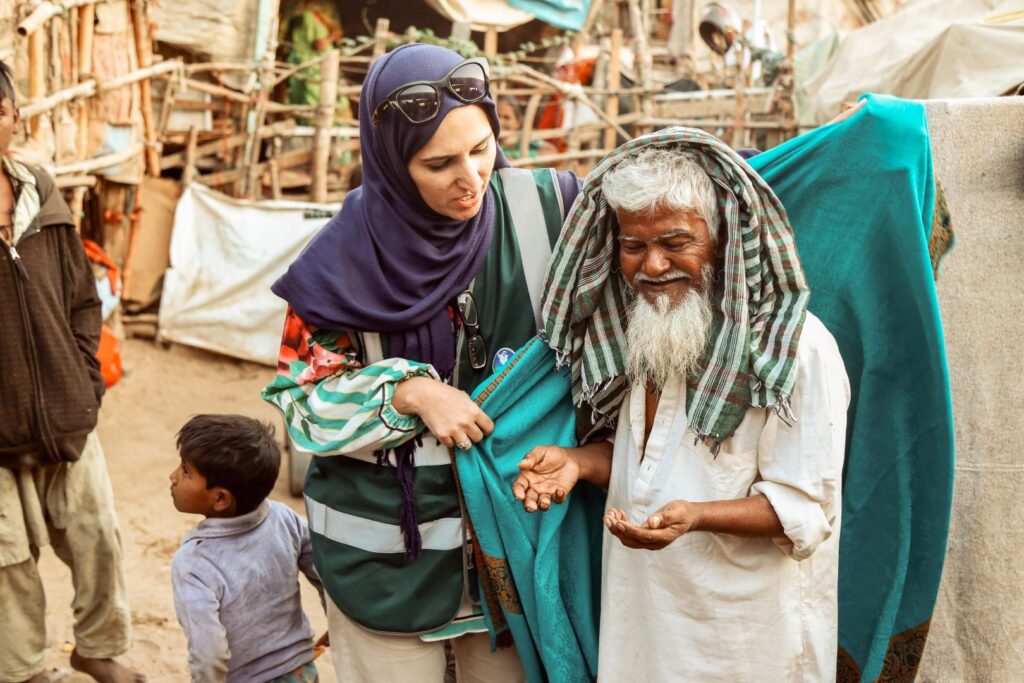 Journey Through a Decade – Al-Wahab Foundation 'Keeping Hopes Alive'
Empathy and compassion are two different spirits that translate the real meaning of life. Al-Wahab Foundation has been striving to provide ease to numerous underprivileged families by making arrangements for providing food, water, healthcare facilities, education, and good sources of income. The organisation has served for over a decade, intending to transform lives by helping them through tough times as well as empowering them for a better future. Here is a glimpse into Al-Wahab Foundation's journey through a decade.
Journey Through a Decade
Big journeys begin with small steps influenced by anything happening around us. The same was for Al-Wahab Foundation, as in October of 2005, a devastating earthquake hit Pakistan, changing the lives of those affected. The quake was followed by chaos as the death toll rose, and countless people became homeless while experiencing terrifying episodes of starvation. This misery touched the heart of Mufti Abdul Wahab, who was then prompted to take action. 
Chairman Al-Wahab Foundation, Mufti Abdul Wahab, approached his brother and a friend to contribute some funds. With a truckload of supplies, they rushed to the air-force base in Karachi, where an assigned aircraft was waiting to carry relief trucks to the troubled areas. Though it was a small initiative at the time, it helped thousands of victims. Mufti Abdul Wahab's humanitarian work did not end there. In 2008, he took the lead in assisting several charities in collecting funds for the affected. 
These agitating experiences encouraged Mufti Abdul Wahab to start his charitable ventures. Since then, Al-Wahab Foundation has played an active role in supporting all districts in Pakistan, especially those under-developed districts. Here is how Al-Wahab Foundation has made it through this journey to date!
2014
In 2014, our first major project was our Ramadan appeal, according to which we distributed thousands of Suhoor and iftar meals to needy families. We also started our Eid Gift Distribution, making Eid brighter for underprivileged children. We provided food, water and medical aid to thousands of internally displaced individuals. We donated our first wheelchair, prompting the start of our medical campaigns. The same year, we installed our first nine hand pumps and a water well, benefiting 1,225 people as part of our Water Project.
2015
AWF opened their first Maktab in Karachi, where we enrolled 250 children for our Hafiz-e-Quran project. We launched our first eye camp in Sindh, in which we treated a total of 250 patients. The first batch for our Women Empowerment Project was selected, where we distributed 40 sewing machines, benefiting a total of 320 beneficiaries. AWF helped urban flood victims in Pakistan by providing food, water & medical aid. Through Earthquake relief projects in North Pakistan, we delivered food, water & shelter to over 720 displaced individuals and medical care to over 50 wounded or injured victims. As part of our Rozgar project, we helped two individuals start their small businesses in Karachi. Distributed over 1500 blankets through our Winter Project.
2016
Our Sadaqah project was launched, giving aid to many vulnerable districts of Pakistan. We established our new school where we enrolled children from highly impoverished families, providing them with free quality education in both Islamic and secular subjects. We also developed our Maktab, Eyecare support and Cooked Food projects, among many others.
2017
Our team of enthusiastic and dedicated volunteers delivered freshly-cooked meals to a UK-based homeless shelter in Hayes. We responded to the Grenfell Tower tragedy by donating warm meals and clothing for all the affected and providing much-needed moral support. Our team of volunteers visited the inhabitants of Saharah Village to deliver food. Our first Masjid was built in Pakistan, allowing 200 individuals to perform daily prayers. The crisis in Rohingya propelled us to send humanitarian aid to 2,100 beneficiaries.
2018
We built the first house for our Tameer-e-Ashiana project for a family in desperate need of shelter. We began to support Fukuoka School for children with special needs. In the UK, we provide fresh drinking water in parks during a particularly harsh heat wave. We gave boxing kits to two sisters to fulfil their dreams of following in their father's footsteps in rural Pakistan's boxing industry. The inauguration of our Street Children School saw 60 children enrolled.
2019
Our team visited Mandeville school, where we organised activities for children with special needs. Our 'Himmat Karo Aage Baro' campaign saw the distribution of 50 food-delivery motorbikes to Pakistan's troubled youth. The earthquake in Kashmir led to our Pakistan Earthquake Appeal, which benefited 3,460 victims. Our on-site team delivered aid to 500 victims in the Karachi cyclone, which led to families left in destruction. We held our first International Girls' Day to encourage young girls in Karachi, Pakistan. Our 'Walk for Children's Education' garnered the support of hundreds.
2020
Our volunteers visited an old-age home where they interacted with the elderly in an entertaining and enjoyable environment in Hayes, London. We started our Feed the Homeless project in London and distributed over 100 food bags to the most vulnerable segments of society in Covid. AWF also provided urgent relief to Pakistani families through food packs and sanitation equipment. The year 2020 marked the most successful Ramadan project for AWF.
2021
We started collaborating with London's Community Kitchen to provide fresh weekly halal meals to families struggling to feed themselves in London. Our staff and volunteers also visited LCK's office to create food bags for homeless and low-income families. Our chairman Mufti Abdul Wahab visited Pakistan after a year to oversee the implementation of our Masjid, Water, Rozgar, Eye Care and Cooked Food Projects.
2022
Al-Wahab Foundation successfully completed Ramadan and Qurbani Projects this year. Moreover, we are vigilantly responding to the Monsoon floods in one-third of Pakistan. Our team is on the ground to provide food, clean drinking water, and medical kits to flood victims. We also launched a joint rescue operation with Pakistan NAVY SSG in different parts of Sindh. Our vision is to ensure that those struggling below the poverty line are cared for, which requires dedication, determination and drive on our part as an organisation and on the society as a whole. It is an ambitious vision, one that we hope to accomplish in the near future.