Since 2014, Al-Wahab Foundation (AWF) has delivered emergency and developmental aid to combat and eradicate poverty, growing to reach thousands of people each year. Our aim is to see a world where people are empowered to be able to step up out of deprivation and build their future with independence and dignity. With your support, our aid solutions serve people in remote and rural areas, providing food, clean water, healthcare, education and innovative livelihood support programmes.
AWF (previously known as Ummah Charity International) has been creating networks of care and relief since 2014. Our chairperson, Mufti Abdul Wahab, has seen first-hand the devastation caused by natural disaster in underdeveloped countries where the most vulnerable suffer the most. From these experiences, AWF was founded and has grown today to help thousands of people suffering extreme poverty and living in desperate conditions.
Our Vision
At Al-Wahab Foundation our vision is to address the root causes of poverty by ensuring that every individual in our society can earn a stable livelihood to support their needs and that of their family. With your donations, we provide aid solutions that meet basic and immediate needs such as food, clean water and healthcare, supporting people in crisis. Due to your generosity and compassion, our developmental programmes help people by providing business support, finance, training, tools and resources so they can learn, achieve and earn.
Our Mission
Our mission, inspired by our founder Mufti Abdul Wahab, is to provide sustainable solutions to people in poverty, empowering them to earn a stable living without the need for humanitarian support. Our programmes focus on providing access to economic stability that combats and eradicates poverty in all its forms.
2014
In 2014, AWF was formed, under the name of Ummah Charity International, as a UK-registered charity. Our first major project was our Ramadan appeal, under which we distributed thousands of Suhoor and iftar meals to families in need. We also began our Eid Gift Distribution, making Eid brighter for underprivileged children.

Our healthcare programmes began with the donation of a wheelchair. The same year, we installed our nine hand-pumps and one water well, benefiting 1225 people in Pakistan as part of our Water Project.
2015
We created our first Maktab in Karachi, where we enrolled 250 children for our Hafiz-e-Quran project. We launched our first eye camp in Sindh in which we treated a total of 250 patients. Our first Women Empowerment Project distributed 40 sewing machines, benefiting a total of 320 women, including struggling widows.

As crisis hit, AWF helped hundreds of urban flood victims in Pakistan by providing food, water & medical aid. Through our Earthquake relief project in North Pakistan, we provided food, water & shelter to over 720 displaced individuals and medical care to over 50 victims who were wounded or injured. Our Rozgar project began, helping two individuals start their small businesses in Karachi.
2016
Our Sadaqah project was launched, giving aid across many vulnerable districts of Pakistan. We established our new school where we enrolled children from highly impoverished families, providing them with free quality education in both Islamic and secular subjects. We also developed our Maktab, Eyecare support and Cooked Food projects and reached more people.
2017
Our team of dedicated volunteers delivered freshly cooked meals to a UK-based homeless shelter in Hayes. We responded to the Grenfell Tower tragedy in London by donating warm meals and clothing for all the affected.

Our first Masjid was built in Pakistan, allowing 200 people to perform daily prayers. Due to the unfolding crisis in Rohingya, AWF sent humanitarian aid to 2100 beneficiaries to meet their emergency needs.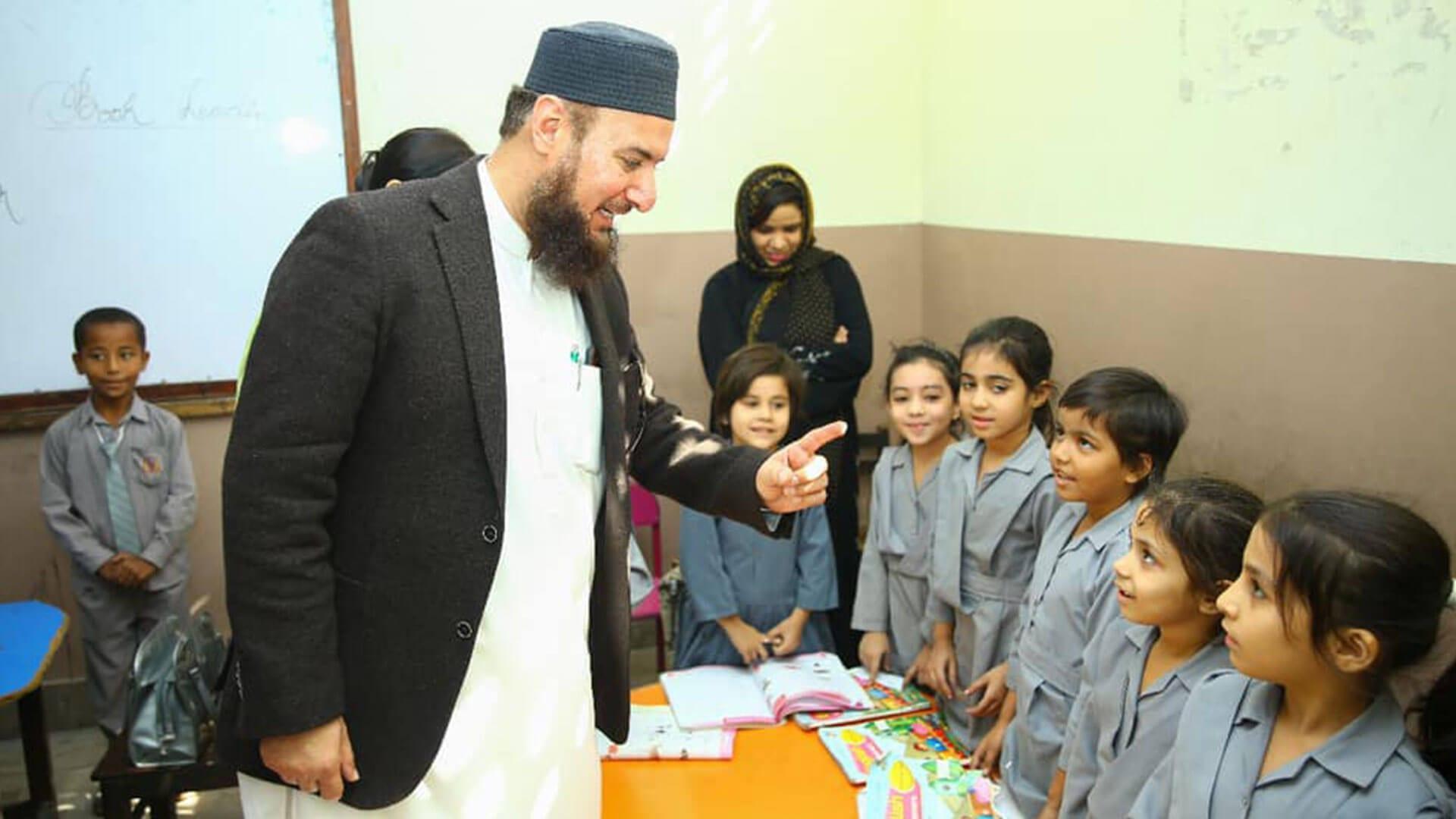 2018
We built our first house for a family in need and began to support Fukouka School for children with special needs. In the UK, we provided fresh drinking water in parks during a severe heat wave. The launch of our Street Children School saw 60 children enrolled and given safety, care and access to learning.
2019
Our 'Himmat Karo Aage Baro' campaign saw the distribution of 50 food-delivery motorbikes to Pakistan's troubled youth. The earthquakes in Kashmir led to our Pakistan Earthquake Appeal, providing aid to 3460 victims. Our on-site team delivered aid to 500 victims who had lost everything in the Karachi cyclone. We also held our first International Girls' Day to celebrate and encourage young girls in Karachi, Pakistan through education and achievement. Our 'Walk for Children's Education' garnered the support of hundreds, raising further funds to support our schools.
2020
The Covid19 pandemic struck. We responded by starting our Feed the Homeless project in London, distributing over 100 food bags to the most vulnerable and those who were isolating. We also provided urgent relief to families in Pakistan in the form of food bags and sanitation equipment to combat the spread of the virus. Despite the struggles worldwide, our Ramadan campaign raised the highest funds yet, helping us to reach and support more people.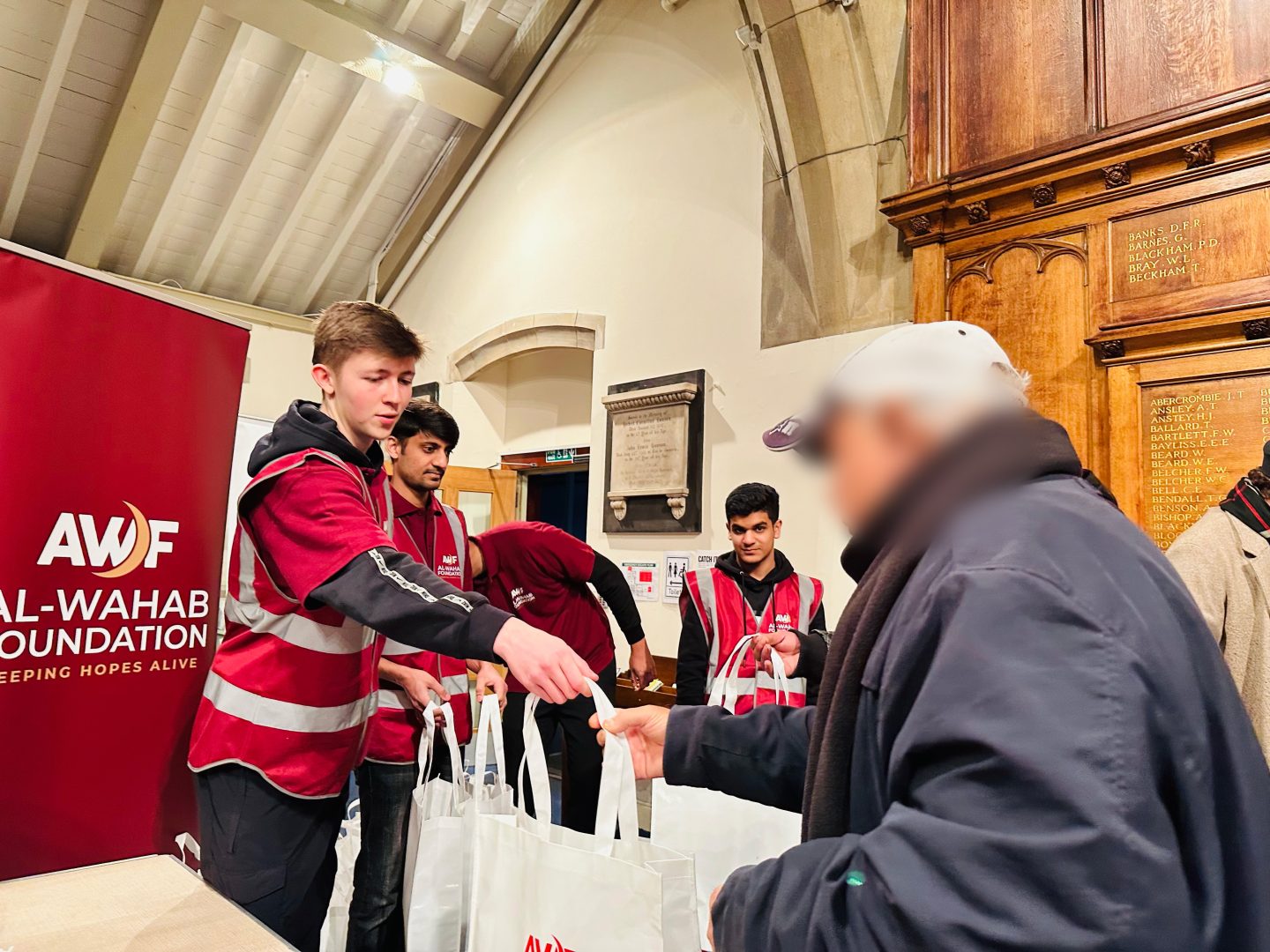 2021
We started our collaboration with London's Community Kitchen to provide fresh weekly halal meals to families struggling to feed themselves in London. Our team of staff and volunteers also visited LCK's office to create food bags for homeless and low-income families. Our chair Mufti Abdul Wahab visited Pakistan to oversee the implementation of our Masjid, Water, Rozgar, Eye Care and Cooked Food Projects which now reach thousands of people across Pakistan.
2022
We continued the expansion of our emergency and developmental programmes, reaching people in new areas of Pakistan and responding to the crisis of the severe floods from June to October. We also rebranded to Al-Wahab Foundation, reaching more donors and delivering further support through innovative livelihood programmes to fight against poverty.
Your support is vital to helping us achieve this and we couldn't do it without our dedicated volunteers.
Sign up to our newsletter