In the face of rising living costs and increasing financial difficulties, many communities in the UK are struggling to make ends meet. The cost-of-living crisis in the UK has left countless families contending with financial hardships. Specifically, supermarket inflation reached an all-time high this year with a deplorable figure of 17.5%, which has led to soaring prices of essential goods. Consequently, thousands of individuals and families across the UK find themselves in the grip of a persistent struggle to meet their basic needs, unable to provide for themselves and their families. Furthermore, homelessness is an imperative issue propagating across the UK with a figure of 271,000 people living without a home, also unable to purchase necessities due to the extensive rise in costs. Such circumstances call for humanitarian aid to be provided to those struggling on a daily basis. Here is an overview of what AWF is doing to deal with this crisis.
What we are doing to help?
Al-Wahab Foundation, with the support of its respectable donors, has been contributing to provide sustenance to those in dire need in the UK. The following projects are in progress to make a difference for vulnerable individuals.
Providing Cooked Food with London Community Kitchen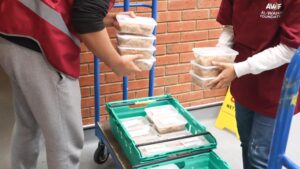 Throughout the year, at times when inflation was at its peak, Al-Wahab Foundation has been working with companies such as London Community Kitchen and My Yard Charity to support people in London with freshly cooked hot meals, food parcels, and grocery bags packed with basic necessities. London Community Kitchen, located in Harrow London, renowned for its dedicated efforts in tackling food poverty allowed our team to prepare a table filled with hot meals every week next to their weekly food market and thus we handed out hundreds of free meals to struggling families and individuals living in harrow, both Muslims and non-Muslims were able to benefit from this project.
Serving Humanity with My Yard Charity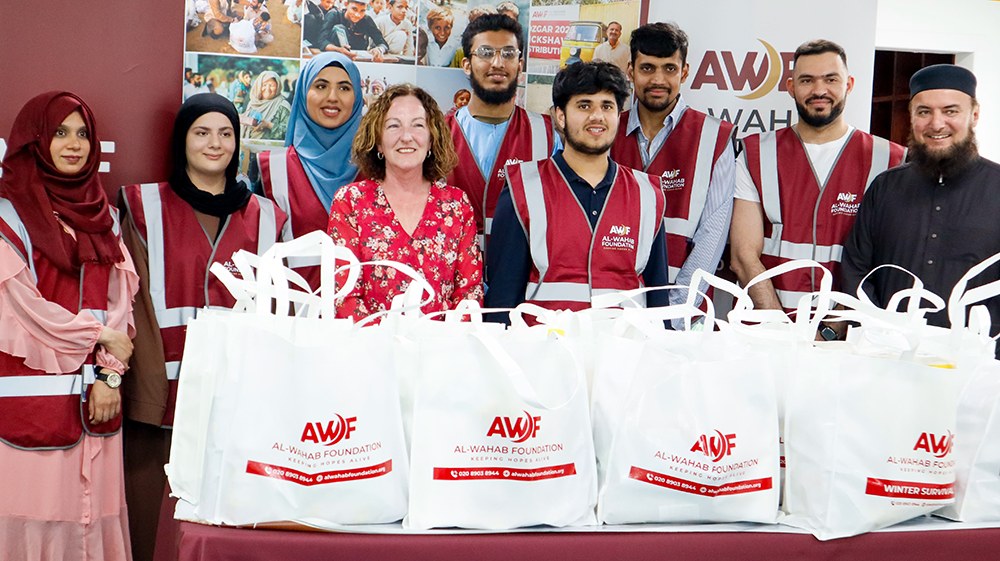 One of our recent UK-based projects Serving Humanity has been our collaboration with My Yard. Al-Wahab Foundation recognizes that financial difficulties extend beyond just food insecurity. My Yard is a compassionate organization focused on helping families facing financial hardship. It has a proven track record of providing essential items and necessities to those in need. By working hand in hand with My Yard, Al-Wahab Foundation has been able to extend its reach and ensure that families and people without a home who are facing financial difficulty, receive crucial supplies such as clothing, toiletries, and other essentials. We compiled 50 essential bags and 60 halal food boxes, containing requisites such as cleaning products, food tins, toilet rolls, washing powder, shampoos, rice, pasta, and cooking oil. The halal food boxes made especially for Muslims on the estate showed an overwhelming response.
Our Accomplishments
So far, we have successfully provided 4,137 hot meals over the course of two and a half years and 50 essential grocery bags throughout 2023. Al-Wahab Foundation aspires to continue to do so. By leveraging the power of community and collective action, Al-Wahab Foundation and London Community Kitchens have made a substantial impact in reducing food insecurity.
What you can do to help?
We need your support; your donations allow us to implement these projects and collaborate with other well-known organizations to bring some form of ease into an individual's life. You can provide freshly cooked hot meals and food bags with essentials containing sufficient items to serve a family for an entire month by donating to AWF. Join us in serving humanity. Together we can make a positive difference in the lives of families who struggle every day to put food on the table. We're counting on your support again this year.
To donate, visit our website www.alwahabfoundation.org , or call us at 020 8903 8944.